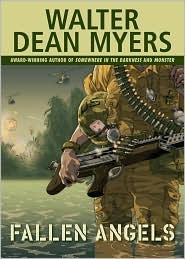 We will begin reading the novel
Fallen Angels
by
Walter Dean Myers
early next week. You will need to go to the library and check out your own copy of
Fallen Angels
before next Monday. You will need to do this on your own time. You will not be permitted to leave class to go and check your book out. You have the time before school, after school, and during your lunch to do this.
Look at the following questions and respond to them in the comment section. If you decide to post anonymously, without providing a user name, be sure to include your name in your post so that I may award you credit for completing the project. Some of the questions may require you to research other areas of the Internet. Perhaps, you might look up a summary of the novel to help you in making a decision. Please use your time wisely. You have only today in class to finish the assignment. I also encourage you to read what others are posting and feel free to respond and comment appropriately. All inappropriate comments will result in deduction of points for the project.
DO NOT COPY AND PASTE RESPONSES FROM OTHER SOURCES. I WILL BE DOING A CHECK. ANYONE CAUGHT DOING THIS WILL RECEIVE A 0/100 FOR THE PROJECT AND WILL BE WRITTEN UP FOR ACADEMIC DISHONESTY. You've been warned!

Fallen Angels

The following statements represent big ideas from the novel that can relate to many other war-related texts you might read. Simply write "agree" or "disagree" and more importantly, explain WHY.

1. Young soldiers engaged in combat typically undergo a personal transformation--a passage from youth to maturity, from innocent to experience.

2. War often forces people to reconsider their traditional notions of right and wrong.

3. War brings out extremes of behavior--not only courage, loyalty, and sacrifice but also brutality, prejudice, and arrogance.

4. War is chaotic. People often find it difficult to make sense or find meaning in combat.
Thought Provoking Questions. (Yes, you will need to answer these in depth which will require you to do some research online.)
1. What do you already know about The Vietnam War?
2. What do you want to know about The Vietnam War?
3. Why, in your opinion, was The Vietnam War so controversial?